Welcome to SJM First Grade College of Arts & Commerce, Tarikere


S.J.M. College which was established in 1980 by S.J.M. Vidyapeetha, Chitradurga fulfills the higher educational aspirations of the people of this area since its inception. The college has got affiliated to Kuvempu University with permanent affiliation and falls under the 2(f) and 12(B) category of UGC act 1956. The institution was accredited with 'B' grade in 2007 and now is volunteering for the second cycle, re-accreditation submitting its RAR – 2015 which is a landmark and we faithfully confirm to the NAAC guidelines.

Firstly the college since its conception has been committed to the quality of education and caters to the needs and serves the interests of the people of this area. On the other hand the college realizes that skill and knowledgeable persons are required to build a strong nation. Therefore the college strives towards achieving this and makes efforts to create such a human resource by massively involving the faculty with a number of student enrichment programmes. The college has also made its sincere attempts to create an environment with ICT for an effective teaching, learning to equip students with knowledge and skills. ....


News and Events


Quick LINKS


Message


I warmly welcome you to SJM First Grade College of Arts and Commerce, Tarikere which is one of the prestigious colleges of S J M, Chitradurga. Our college is one of the leading premier institutions offering....


Admission 2022-23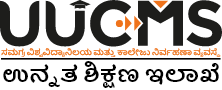 Copyright © SJMFGC 2018, All Rights Reserved
Best viewed in 1024 X 768 resolution with MSIE 7+